Thanks city for snow removal
Dave,

I just wanted to send out a big THANK YOU to the city "boys" for the great job they did with the snow removal after our Thanksgiving storm. In the 25+ years that I've lived here I think this was one of the few times that the snow was actually mostly removed from the streets. It made for ample parking for all the people visiting friends and relatives and was much safer.

Thanks again guys!!!

Lori Kapraun
Wants picture of Minonk swimming pool
I was wondering if anyone had any photos of the Minonk swimming pool other than the one on here. Thanks a lot!

Tia Teno

Editor's note: If anyone has a picture, please send a copy or email to MinonkTalk so that we can publish it.
Flip-flopped on sports at Fieldcrest?
Dave, I am responding to your November 8, 2004 editorial " Help Fund Extracurricular Activities at Fieldcrest", as a parent and 1 member of the school board. These are my views and DO NOT reflect the views of the entire board.

I have some views and suggestions for you and your readers that I would like to offer in response to your comments. While I agree with some of your points, and disagree with some of your points, I truly appreciate your forum and respect your right to voice your opinions.

" If one of the messages the voters of this school district are sending by their vote on the recent referendum is to the state government, PLEASE make sure they understand that message was directed at them!! Call them, send them a fax, (emails are not as well received), or go see them and tell them this what you feel and how you think things should be done. o

Dan Rutherford
State Senator

District Office
320 N. Plum Street
Pontiac, IL 61764
(815) 842-3632
(815) 842-2875 Fax

Springfield Office
105B Capitol Building
Springfield, IL 62706
(217) 782-6597
(217) 782-0116 Fax

Email: danrutherford@danrutherford.com

(For e-mail correspondence, we ask that you include your mail address and phone number. To ensure a reply, we MUST have this information.) o

Representative Keith P. Sommer (R)
106th District
216-N Stratton Office Building
Springfield, IL. 62706
217-782-0221
217-782-1275 (fax)

District Office:
121 W Jefferson
Morton, IL 61550
309-263-9242
309-263-8187 (fax)

We all hope that farmland values increase which will help with local funding of the school district, however you forgot to remind your readers that Fieldcrest has a history of NOT taxing at the maximum allowable rate unless it was truly needed as in the last few years in order to attempt to balance the budget without borrowing.

Let me preface this by saying, I am 100% in support of what the CAC is doing. I will continue to support them not only monetarily, but also in person by working at and attending fundraisers and paying the fees required for my children to participate in activities

Your comment regarding donations to the CAC quote "Lastly, we as a community are telling the school district what we will support." Disappoints me. On June 16, 2003 your wrote an editorial on this very website encouraging the school board to eliminate extracurricular activities and develop an intramural program to cut costs and eliminate transportation expenses. You also commented on how too much emphasis was put on athletics and competition our schools and how extracurricular activities have nothing to do with education (this is copied directly from your website)" The second reason for eliminating organized sports is because it has nothing to do with education and has more to do with a source of entertainment for the community."

What's the deal? We can't win can we Dave? We are cursed if we don't make the "right" decision, and the we are second guessed if we make any decision. I have not agreed with every decision we as a board have made, but at least we are looking at alternatives, talking about them as a board and gathering input from the communities, arguing about them at times and making decisions.

I appreciate your forum and the service it provides to the communities, but if I had "flip-flopped" on an issue like I feel you have done, I am sure you would make your feelings known to me.

I am going to continue to work for what I think is in the best interest of all of FIELDCREST, not any one community regardless of what the current popular opinion.

I hope that come the spring election there are as least as many votes for candidates for the school board as there are for and against the referendum, because we need people to run for the board who want to make decisions and not worry about getting re-elected.

After all, based on what I perceive as your current position, don't depend on your supporters to be there if what you have done becomes unpopular.

Joe Kirkpatrick
Fieldcrest CUSD #6 School Board Member

Links to both editorials

http://www.minonktalk.com/editor.htm
http://www.minonktalk.com/ed061603.htm

Editors reply:Joe, I still maintain that sports should be an intramural program as stated in my earlier editorial. The fact that I am donating to the current extracurricular program doesn't mean that I have changed my opinion on that. The current fund drive was not my idea but came from suggestions from alumni. I decided to contribute to the fund because I feel sorry for the families who have to pony up a lot of money to keep their children involved in extracurriculars. In addition, the extracurricular fund supports nonsport activities as well. If sports were an intramural program, I think the cost to support it would be less and more students would have a chance to participate. I do appreciate your feedback and your efforts as a school board member.
Senate report is a great service
The recent summary of results of the Illinois veto session was a great service not seen elsewhere....as these are available please keep them coming to us via MinonkTalk.

And thanks to Barth Weistart. His "Tribute to Dudley" describes many of the great reasons that some of us keep pets who add to many of life's memorable moments

Gerry Schmidt
Donating to Fieldcrest extracurriculars
Dave:

I just off the phone from my Aunt Jean. Minonk class of 1941 now living in Columbus Ga. She said would send a check to help out. I ask all people to contact any body they know to help out our old High School.

I sent a check for $100.00.

James K Wylie ( Rick )
Class of 1961
Another letter from Iraq
The blistering-hot summer is over and fall is finally here! For some of us, the kids are back in class and its time to break out the sweaters and winter coats. Have a great school year!
For the 85 men deployed in Iraq, October brought combat operations in Samarra and Ad Duluiyah, long days training the Iraqi National Guard and escorting a bomb disposal team across our sector, and a change of command ceremony from Chris Simpson to Chad Ramskugler. We all wish Captain Simpson the very best as he moves on to Engineer Brigade - he has led this company for 20 months and we thank him and his family for all the dedication and sacrifices they have made. I took command on October 19th - this is an incredible privilege and honor. Not many people know that I have two younger sisters in the Army. They deserve outstanding leadership and I expect a lot from their commanders. Likewise, the soldiers of Bravo Company deserve outstanding leadership from me and I will always give my best to each of you.
To our loved ones back in Germany and the United States, thank you for the care packages, words of encouragement, and frequent emails that keep us going. We really couldn't do this without you. I look forward to meeting everyone and taking some hard-earned leave next spring.
Rock Steady! Captain Ramskugler
Editor's note: Captain Ramskugler is a grandson of former Minonk resident Mary Paloumpis Hallick. We encourage other soldiers overseas to send us letters so that people back home can get a first hand account of life as a soldier.
May You Rest In Peace....
It broke our heats to lose you, but you did not go alone, for part of us went with you the day God called you home. A million times we would of cried if our love could of saved you, you would not have died. To some you are forgotten, to others a part of the past, but to us who loved you and lost you, your love will always last. There is a bond death cannot sever, love and remembrance live forever.

Sadly Missed By anyone who had the pleasure of knowing you...
By Linda Gibson (Zippy) - granddaughter
Wants info on Greskoviak family
Sir, My name is Robert Greskoviak jr.. I was reading the Minonk Talk, and was wondering if you could help me obtain information on my ancestors. Mr. Richard Greskoviak was my greatgrandfather, and Harry was his cousin. My grandfather used to talk of how his parents came from Poznin, Poland to work the mines in Minonk. Any information would be useful.

Thank you!!!

Robert Greskoviak
Email: RGRESKOVIAK@wi.rr.com

Editor's note: I know there are Greskoviaks in Minonk. Would someone in the family like to respond to this letter?
Looking for picture of Sutton Building
Does anyone have a picture of the Sutton building with a clear view of the front facade, showing the gas station, restaurant and implement dealership? The picture on Minonk Talk is very nice but I can't see the three separate businesses clearly in the Arial view.

Thanks.

Ruth Ann Meierhofer
More donations to Fieldcrest
Dave, read your article about donations for the school programs and remember that a while ago I mentioned that maybe some of us "old" wouldbe athletes might be willing to cough up a few bucks to help the schools out. Glad to see the followup and we will send a check to the CAC very soon. Hope you get many responses.

Albin Johnson
Class of 1948
Voice your opinion on expansion of land-based casinos
Dear Dave,

By the time you receive this note, I will be getting ready to be on the way to Springfield for the first of two weeks of the Veto Session. I wanted to get to you right away.

In the recent past you responded to my opinion survey on issues important to you. I note that you responded that you are NOT in favor of expanding to land based gambling in our state.

You need to be aware that Governor Blagojevich is in negotiations, right now, to permit a land based casino in the City of Chicago. I do not support that move and I assume you do not either. Indications are that the Governor may try and get a vote on the matter during this Veto Session.

If you do not support expanding to land based gambling in Illinois, you may want to do two things:

1) Affirm to me what you think of Gov. Blagojevich and Mayor Daley's plan to expand land based gambling. (When you e mail me, put in the Subject Line 'Dan, to you on Gaming'. That way your message will come to the top of the queue and I will read it personally, right away.)

2) Encourage others to weigh in on the issue and say if they are in favor of expanding to land based gambling or not. You may want to send the following note to those in your e address book:

The Legislature is back in Springfield now for the Fall Veto Session. Governor Blagojevich is in discussions with Mayor Daley to expand gambling and allow a land based casino in Chicago. I am opposed to doing that. If you are also opposed and want to register your position, please go to Senator Dan Rutherford's Opinion Survey site: http://danrutherford.cmititestbank.com/ and register your stance. Senator Rutherford is opposed to land based casinos in Illinois and has agreed to receive information on people's position on the matter and forward it to the right policy makers in Springfield. Please, pass the word and encourage friends to weigh in on his timely matter!

I appreciate you helping spread the word and I will keep you informed.

Sincerely,

Dan Rutherford
State Senator

Editor's note: I am opposed to the expansion of land based casinos and encourage others to voice their opinion to Senator Rutherford.
Wants info on old bottles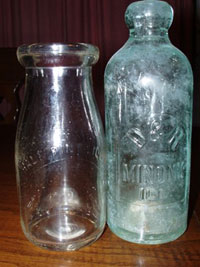 Hi Dave- I was wondering if you had received any information concerning the photo of the D&R bottle you showed on your website some weeks back. I too have a D&R bottle. My husband Darrin found it behind his building (old Stenger store) in Rutland in the early 1990's. Although it is intact, it is badly etched. I took this bottle to Minonk once to show my Grandpa (Bill Sr.) Cosby. Grandpa then gave me a bottle he'd found buried in his garden on Walnut Street. That bottle is a half-pint that reads "sealed 1-11-14." On the bottom of the bottle "MINN" is stamped. Grandpa said it was most likely used for milk. I asked Grandpa if he knew anything about the D&R bottle, and he said he thought that it was used for medicines. I am enclosing a picture of the two bottles. I have kept these bottles because I thought perhaps they would be of historic value someday, and am hopeful that someone in the readership has more information to contribute about them.

Sincerely,
Christina Jenkins