Minonk has a rich and varied history. Being located at the intersection of two railroads and having one of the first coal mines in the area gave Minonk a headstart in its early growth. Minonk's peak population was 3000 in 1896. Minonk truly was a 'little city' around the turn of the century. Many of Minonk's grand old buildings have disappeared along with other sentimental landmarks such as the "jumbo" north of the city. Minonk has also lost many of its fine businesses for many reasons common to most small towns. The shopping malls, improved transportation and mobility, the decrease in small farms and the number of farmers have all been contributing factors.
Many of us can remember when Minonk was the shopping hub of the area. When Saturday nights in Minonk seemed liked Times Square on New Year's eve. People would come up town in the afternoon to park their cars in a strategic spot on Main Street so they could visit easily with the passerbys strolling down the street that night. You could not walk down Main Street in a straight line on Saturday night. Hopefully, this section of the Minonk homepage can rekindle some of those memories Reminding us of Minonk's bustling past can give us hopes that Minonk can again regain its eminence as the 'little city' on the prairie.
<!IMG SRC="hitchpos2.jpg" hspace=30 width=260 heigth=148 align=center>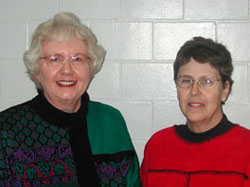 Minonk historians Jari Lynn Oncken and Donna Rae Eilts.

Much of the information on Minonk's history was obtained from the book "Tales From the Trees" published in 1981 by Ailene Hayes Schneider, a Minonk native. Also, some of the text and many of the photographs were provided by Donna Eilts and Jari Lynn Oncken who are doing an exhaustive research of Minonk's history. Much gratitude and appreciation goes to them for their efforts.

The history displayed here is just a start. We encourage feedback from our viewers so that we can continue to expand this section. To go to a particular section on Minonk's history, click on the appropriate topic shown at the top of the screen.