Henry Pfaffle
1862-1952
Henry Pfaffle was an optometrist in Minonk for over 60 years. He started out in the printing business in 1876 and eventually became an optometrist and a photographer in 1889. He took his first pictures July 2, 1889 and recorded the early history of Minonk with his camera. Many of the pictures shown on this web site were taken by him.

Mr. Pfaffle had constructed a photograph car that could be placed on a railroad flat car and taken from town to town. Upon arrival, wheels were placed under the car and it was drawn by horses to a location for shooting pictures.

He lived most of his life at 528 Walnut Street. His office was located at the southwest corner of Walnut and Fifth Streets. He was one of the first persons to own an automobile in Minonk having purchased one in 1904 for $425. The first state license plates were required in Illinois in 1906, and Mr. Pfaffle was issued number 531.
---
This information was taken from a March 20, 1941 article in the Minonk News-Dispatch,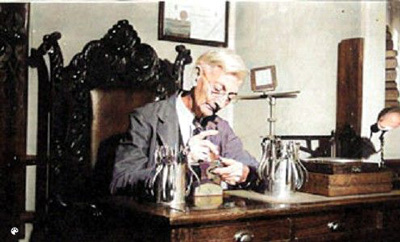 Mr. Pfaffle was interested in astronomy and constructed his own telescopes. He sold the first one to Eureka College. He also was a weather observer and display man for the federal Weather Bureau. Each morning he received weather forecasts via a telegram from Washington, DC and he was required to display the weather flags here.
He also collected stamps, coins and autographs from such people as James A. Garfield, Rutherford B. Hayes, Grover Cleveland, Oliver Wendell Holmes, Jefferson Davis and Thomas Edison. He died in 1952 and left money to the city for installing new steel pipe in the city well to improve the water supply.