Few people realize that Minonk was once "chicken plucker to the world". Fred Simater and his brother-in-law W. F. Priebe started the Minonk Produce Company in 1884 and built it into one of the largest supplier of eggs and chicken in the country. Being located at the intersection of the Illinois Central and Santa Fe railroads enabled ice-packed poultry and eggs to be sent easily back to the Eastern market as well as to the rest of the world. By 1910 up to twenty-five carloads of poultry were being shipped daily.

The Minonk Produce Company was located on North Chestnut street at the present location of Minonk City Hall. Mr. Simater accumulated substantial wealth from his enterprise and his wealth still has an effect on Minonk today. His daughter, Esther Simater Dye, inherited her father's wealth. Upon her death in 1979 she left $3,000,000 for the construction of a nursing home in Minonk. This action was in keeping with the legacy of Mr. Simater who was generous with his wealth and was an active civic leader in Minonk.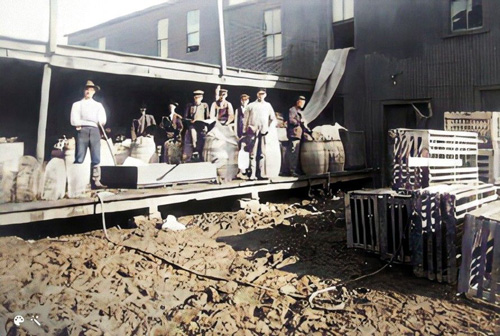 He served four terms as mayor, twenty-seven years as a precinct committeeman and nine years as a member of the school board. Each Christmas he would give dolls to all the little girls and bags of candy to all the little boys in the community. His enterprising spirit and sense of civic duty helped make Minonk a vibrant and growing community.