The following report and statistics were compiled by Jack Cullen.
---
1924-25 Basketball season
The 1924 Minonk Fans basketball team was regorganized with Jake Meierhofer as manager and Folkert Vissering as Secretary- Treasurer. The players were Dickie Devon, Bucky Jones. Gary Phillips, Jack Manley, George Halfmann, and Coach Bill Whitler.

Sip Wolf and Jake Meierhofer were expected to play when needed. In addition, Smiley Halfmann was available for most of the games, but not all because of the hardship in coming from Bloomington, playing a game and getting back the same night.

The following writeup is from the Minonk News-Dispatch of December 11, 1924.

"Those who saw the practice on Monday night did not see the polished play that will be shown later in the season, but they saw a bunch of past masters at work and recognized the possibilities of a fast, powerful, versatile outfit. With that bunch going good it will take one sweet team to beat them."

During 1924 George Halfmann played for the White Sox in an indoor baseball league. The Wenona coalmine closed in August of 1924 and 100 miners were out of work. The average weight of the Minonk High School football players was 132. The Royal Troubadours appeared at the Minonk Lyceum House. Admission was 25 cents and 50 cents.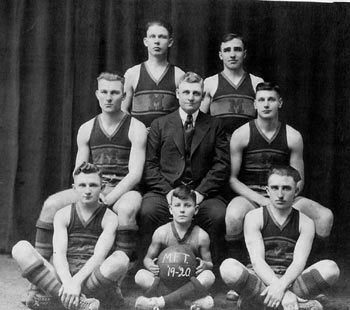 First row left: Richard "Dickie" Devon, Mascot Raymond Ketchmark "Little Sip", George Halfmann; Second row left: Joseph "Sip" Wolf, Manager R. R. Sutton, John "Jake" Meierhofer; Third row left: Floyd "Bucky" Jones, Herman "Smiley" Halfmann. Folkert Vissering was secretary-treasurer.
1924-25 record (10-6)
Pontiac Infantry 30 - Minonk Fans 28
Minonk Fans 38 - Henry Merchants 26
Champaign 23 - Minonk Fans 18
Minonk Fans 35 - Washington Independents 34
Minonk Fans 28 - Minneapolis WhizzBangs 27
Minonk Fans 24 - Pekin A&E 13
Washburn Grays 37 - Minonk Fans 28
Canton 51 - Minonk Fans 35
Highest score ever made against Minonk Fans
Minonk Fans 28 - Washburn Grays 21
Minonk Fans 42 - Cambridge 33(1924 State Champions)
Peoria Fans 31 - Minonk Fans 23
Minonk Fans 17 - Roanoke Alumni 16
Minonk Fans 35 - Fairbury Bon Ton Limits 23
Minonk Fans 18 - Roanoke Alumni 16
Minonk Fans 27 - Long Point 22
Fairbury Bon Ton Limits 18 - Minonk Fans 17