The Minonk Fans were a semi-pro basketball team in the 1920's. They gained national recognition by beating such teams as the New York Nationals and the Wilmington Seals. They played in the old Schlitz Opera House, which was located on the northwest corner of Sixth and Chestnut, currently the site of the Young Chevrolet Garage. The balconies in the Schlitz Opera House stuck out somewhat over the basketball court and it was not unusual for a missed shot or an errant pass to land in the balcony. Also, the gymnasium had several support poles that were located on the floor. The players would use these poles as picks when driving an opponent to the basket.

The Illinois Central Railroad would run special excursion trains from Minonk whenever there were out of town games.

Among the players for the Minonk Fans were Jake Meierhofer, Louis VonBehren, Dick Devon, George Halfmann and Fred Young who later became sports editor of the Bloomington Pantagraph. Young never drove a car in his entire life and would either take the train to Minonk from Bloomington or would have someone drive him. Young had a falling out with the team later on and many people thought he held a grudge against Minonk in his reporting on its sports in the Pantagraph.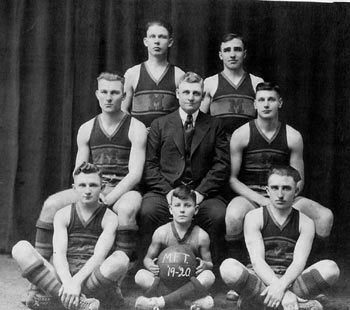 First row left: Richard "Dickie" Devon, Mascot Raymond Ketchmark "Little Sip", George Halfmann; Second row left: Joseph "Sip" Wolf, Manager R. R. Sutton, John "Jake" Meierhofer; Third row left: Floyd "Bucky" Jones, Herman "Smiley" Halfmann. Folkert Vissering was secretary-treasurer.

Click here for a record of the 1919-1922 seasons for the Minonk Fans.