"Doc" Kettelhut
1898-1962
Dr. Armin "Doc" Kettelhut had a successful dental practice in Minonk and was well known through out the area. He was born in Homewood, Illinois, 1898, one of three sons of the Rev. Theodore Kettelhut and Augusta Kettelhut. Rev. Kettelhut was the pastor of the St Paul's Evangelical and Reformed Church in Minonk from 1905 until 1921.
On June 5th, 1923, Doc Kettelhut married Rachel Seggerman, the daughter of Mr. and Mrs. Henry Seggerman of Minonk.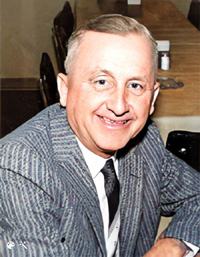 He loved to have fun. In the 20's he had a dance band called "Doc's Melody Boys", they played at dances and functions almost anytime they were asked. He was a great ragtime piano player pounding out such little ditties as: "I'll Be Down To get you in a Taxi, Honey", "Sweet Georgia Brown" and many others. He also loved to sing. He was in the Presbyterian Church choir and also sang "barbershop" with "Babe" Smith and others.

He was a veteran of WWI, but never made it overseas. As he embarked, his ship was called back as the war had ended.