The 1948 Minonk High School basketball team had the best record of any Minonk team. It compiled a 26-2 record losing only to Batavia in the Pontiac Holiday tournament and upset in the last game of the regional tournament by Henry. The starting five were Albie Johnson at center, Don Uphoff (Uppy) and Dick Stokowski (deceased) at forward and Mike Zupansic and Willie Anderson (deceased) at guard. In those days the jump shot and dunks were nonexistent. Instead, there were a lot of hook shots and set shots from out and underhand free throws. Nevertheless, nobody was better at it than the 1948 team.

Minonk was favored going in to the finals of the regional against Henry but were instead defeated 52-42, an upset to most observers.

The Minonk fans became upset with one of the officials by the name of Harold Porter. The fans felt that he was giving all of the calls to Henry. The crowd became so irate with the official that Porter had to be escorted from the gymnasium after the game by the police. Porter did not officiate any games in Minonk for the next five years. When he did return, he was booed unmercifully and subjected to catcalls throughout the game.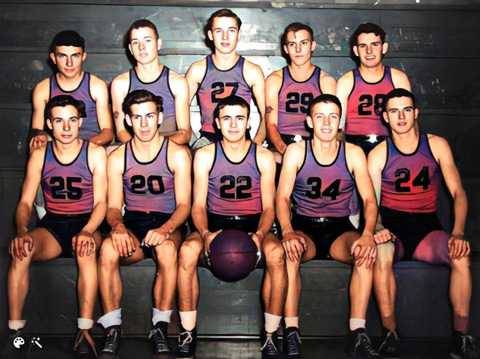 Front row: Bob Curley, Marvin Harms, Mike Zupansic, Willie Anderson, Don McCully.
Second row: Jerry Greskoviak, Albie Johnson, Don Uphoff, Dick Stokowski, Merle McKeon.