Harry Dale "Babe" Smith
1897-1972
Babe Smith was one of Minonk's most colorful characters. He lived all his life in the house he was born in on East Eighth Street. For many years he was the chronicler of Minonk lore and history.

He worked in the N. L. Davison Pop Bottling factory in Minonk from 1912-1918 where he lost the sight of his right eye when a bottle exploded. In his early years he was a chauffeur for several families who owned cars at the time but could not drive them. He also drove a taxicab for the Jack Green Taxi cab Company in Minonk in 1916.

Babe was with the Minonk Fire Department for 57 years and was Fire Chief for several terms. He helped volunteer firemen raise money to buy the first motorized fire truck in 1918, and helped collect money for much of the fire equipment since then.

He was responsible for the collection of money to be used for the erection of street signs in the city so a mail delivery program could be started. He also held in his charge for many years the record of house numbers and their distribution. He was a 50 year member of the Masonic Lodge #247 and Worshipful Master from 1943-1944.

Babe, a bachelor by choice, was in the electrical contracting business for over forty years. He climaxed a long life of civic contributions and other accomplishments by authorizing the Old Philosopher column in the Minonk News-Dispatch for many years.

Well known for his musical talents, Babe played the harmonica, the concertina, the accordian, the musical saw, and the guitar. He had an attachment to place on his guitar, which enabled him to play a mouth harp and the guitar at the same time. Babe also made a few musical instruments of his own. One included a one-string violin made out of a cigar box and a long piece of board in which the original plats of the Minonk Cemetery were written. He said, "that is probably why it worked so good" (which it did)! He appeared with a musical group on a regular basis on a LaSalle radio station in his youth and entertained on other stations at various times and at many civic events in Minonk, playing the "saw", which he rued as a lost art, and his one-string violin.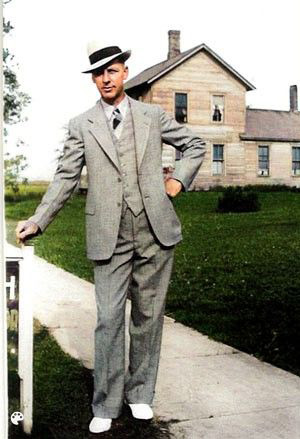 In the early fifties, he organized and played in "The Little German Band" which was well known in this area for many years. He also was a movie actor, playing the part of a policeman in a moving picture called "The Waif" made in Minonk in 1919 by a California motion picture company.
Interested in many things, Babe had his share of thrills in the early days of the airplane. He took his first plane ride in 1922, and in 1929-1920 he flew with T. M. Livingston on barnstorming trips carrying passengers. Babe was an inventor, contriving an aeronautical turn, bank and climb indicator out of an old alarm clock in 1929 when there were no built-in indicators. He also made an air-speed indicator for use in Livingston's plane.
He was a promoter, a tinker, and a philosopher. He was a talented, gregarious man whose riches were counted in friends, wisdom and humble accomplishments. He was not a churchgoer and advanced no religious dogma, but he knew Scripture well and lived by its teachings. He made many lives richer by his presence.