Merry Christmas to everyone
A Merry Christmas and thank you from Omaha...the maintenance of the website and access to local events is a great present!

Merry Christmas to you, your family and all the acquaintances in the Minonk-Dana-Rutland area.

Steve Cinnamon
Rockin' and a rollin'
Happy Holidays, Dave!

I found an old pic of me when I was on-the-air at KNOW Radio in Austin. My air name was "Ted Arthur"..just rockin' and a rollin'. They're days gone by, Dave, but what a time we had at that station.

My best to you,
Art Kettelhut

A picture of "Ted Arthur", a.k.a. Art Kettlehut, in 1968 on the air at KNOW in Austin. Art was a 1954 graduate of Minonk-Dana High School.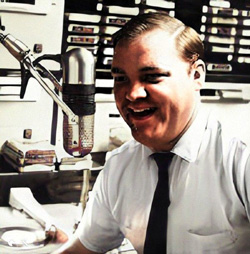 Are we trusting our government too much?
Minonktalk reading is a pastime I thoroughly enjoy. Most recently I began wondering what my long ago hometown thought about the ever-expanding war on terrorism and our eminent invasion of Iraq. Generally, the mid West has supported war efforts by willingly entering the armed forces to "defend" our great nation. During WWII patriotism was the byword. Hundreds of Woodford County youth were called to defend our freedom. Ensuing conflicts became less popular starting with Korea, a country most of my generation had never heard of. I presume I was registered for the draft, but I'm not sure if any draftees were called up. I recall only enlistees and National Guard. The quagmire Vietnam, an effort to "stem the Red tide of Communism" became a reality when the Government "CALLED" (a euphuism) for the DRAFT. The conflicts more recently have been handled by the enlistments of Soldiers, Sailors, Marines and Airmen. The Country has developed a fantastic array of weaponry to dispatch our foes. BUT, even with all the advancements our youth is being killed and maimed and their parents wondering what we have gained.

If the reader gets this far and has a soon to be 18 year old son, then his registration for the draft is necessary. The current Administration appears ready to expand the war on terrorism and to protect our foreign oil supplies. If a larger global conflict occurs, our young people will be involved. Are we as parents and grandparents ready for that? Our 2003 High School graduating class will be told when and how to register. By using Minonktalk web site, you can locate information about this procedure. Start with SCHOOLS, then KNIGHTSRIDGE, then KNIGHTS TABLE, then INFORMATION, then RESEARCH LINKS, then STUDENT LINKS, then SELECTIVE SERVICE SYSTEM. There are answers here. I won't be the first or last to say how much I hate war and I too wonder if we all haven't begun to trust our government leaders a bit too much.

Albin Johnson
City council insensitive to mining legacy
We'll they did it again! They tore down a jumbo. They demolished two historical train stations and now they've taken a patch of ground hallowed by the lives of the people who made Minonk and named it after a flower garden. The flower garden was planted to cover up the traces of home sites of the coal miners.

One council member supposedly said that Sutton's Park "is the name most people associate with the park". Hasn't always been that way. If you keep repeating a name after awhile others will call it the same thing. That doesn't make it the right name. For many years people referred to Custer's Battlefield or Custer's Last Stand. Then someone started thinking about the name. Hey, Sitting Bull, Crazy Horse and others with their followers were there, too. The name got changed to what it was: The Little Bighorn Battlefield. One would hope that when people are charged with naming something that they would look for a truly representative name and not just something associated (repeated over and over) with a site. You sell people short when you imply they can't adapt to a purely representative name.

Someone else said "oldtimers all remember it as Sutton's Park and remember that Mr. Sutton had a popular flower garden on the property". The key word is 'oldtimers'. Historic sites should not be named according to what oldtimers remember. We oldtimers are just that and guess what-- there are soon to be oldtimers coming right behind us. The oldtimers will always be there and then gone. The history of the site can easily be lost. If you are in a position to promote Minonk and help it to be attractive to others, why vote for a name that detracts from history; is in fact no longer important to most people in Minonk; and means nothing to most people who don't live in Minonk. The name "COAL MINERS' PARK" would be recognized for generations to come because of the importance coal played in making our country. I would implore the Council to think what they are doing before they vote on another such issue and hopefully not make a similar mistake. Please make decisions based on knowledge and not favoritism or self interest.

Barth Weistart

Editor's comment: It appears to me that those who are running the city are of a generation that do not have an awareness of or a feeling for Minonk's past and its legacy.
Update on "metal" windows
The metal covering the windows in Tom Jansen's building is temporary. I have been working with Tom for some time, to get his building restored. The windows have been removed, so that they can be rebuilt. (Not replaced with new windows, as he was originally going to do.) They are in the shop as we speak. We have selected three colors, and the second floor should be repainted, and the windows re-installed in the spring. The next phase will cover the first floor exterior, which is still in discussion.

Joe Limbaugh
Remembers Christmas in Minonk
Hello Dave... Just to let you know how "Minonk Talk" brings old friends together, I received a call from Jon Johnson, who was visiting here in the area, close to Buda, Texas. The old times just rolled off our heads, and talked about many things that are featured in the Minonk Talk site. One memory that I will always have is the small town Christmas. This came to mind when I was reading about your up-coming Luminary event. I can almost see those beautiful candle light services, and the snow falling (sometimes)..some seasons were not white, but it really didn't matter all that much, because our hearts were warm, and we felt loved. The love came from all over, from the smells of the Christmas baking, to the shouts of "Merry Christmas" to friends passing by, to the glow of the lights, which seemed to be more heartfelt back then. As kids, we used to "hitch" a ride on our sleds, with the aid of the back bumpers of passing cars, to which my Mother expounded loudly about the dangers of such a risky move. But then, we could always build snow forts and have snowball fights, seeing which side would win. Seems that we wore out before anyone won, and thoughts of going inside to warm up were more important. Cherish your small town Christmas, and rejoyce in it.

Art Kettelhut
Comments on building park pavilion
Hi Dave, though I just moved out of Minonk and down the road, I still have feelings for Minonk. I lived there for 15 years. Of all the options you listed I feel the best option would be for the committee to be bonded as a general contractor. Like you said a lot would volunteer for things. Also they could then hire some of the good contractors in town who are not so busy with big jobs and would therefore be able to do work cheaper...some of them would also volunteer some of their work. I know of at least two very good ones that I have used.

Good luck Minonk,

Wanda Patterson
Merry Christmas from Georgia
Our family lived in Minonk when I was little girl . Most of my mother's family, including my mother are still in the area. My mother is Karen Stokowski, now Mooradian, My grandmother is Mary Ann Stokowski. My mom periodically sends me news from Minonk and I find it interesting to be able to keep up with your small town news. My family lives in Columbus, Georgia, so you see, your news gets around. Happy Holidays to everyone, be safe in your travels and God Bless .

By the way the Church looked wonderful, I'm glad my mother was able to show off everyone's hard work.

Sincerely,

Janet Hocking
Columbus, Ga.
Rabbits, not kids, are the problem
Dave
I just can't take it any longer, kids or people are not going and cutting peoples Christmas, Halloween, Easter, and all other holiday lights. The culprit is squirrels or rabbits. They bite the wires thinking it is a stick. This happens more in the winter months than the summer or fall. They see the green wire and bite it. Both squirrels and rabbit have razor sharp teeth so the wire for the most part will be a clean cut like someone used a knife or scissors. Some cuts will be jagged also.

Chris McKay
Card shower for Addy Seggerman
Dave,
My good friend and fellow bridge player, Addy Seggerman, will be celebrating her 90th birthday on Christmas. I'd like to see her "showered" with cards, so I'm passing this information on.

Addy Seggerman
208 Maple Ave
Minonk IL 61760

Thanks,

Joanie Miller
Comment on vandals
Dave...
I read Peggy Winters letter on someone cutting the power cord to her Mother's Christmas lights. Sad. Let me tell you a little story that happened here in Round Rock several days ago. Some stupid fools, with the IQ level of a trained monkey, hot-wired a bulldozer, and destroyed a new park area that was soon to be dedicated here. They plowed up the walkways, knocked over tables and walls, leveled the pavilion, and totally destroyed most of this new area. What's wrong with people these days? Well, one thing is total disregard for other people's property. Thrill seekers with nothing better to do than make themselves feel "important". In my opinion, it all starts with family values. An old phrase, but true. It's "look at me", and how great I am. Well, without these family values of morals and respect for others, you sew what you reap. Parents are too busy these days to guide their kids on the right path. So, what do the kids do? Run wild, because nothing is taught in the home about respect. Parents need to wake up, because one day their son or daughter might be a guest of the state, and then they'll wonder what went wrong. Peggy's letter set me off, and I just had to say something about all this. Thanks for reading this, and let's hope the lights stay on in Minonk. Have a good Christmas.

Art Kettelhut
Looking for copy of poem
Lillian Stokowski Durbin, Minonk class of 1930, would like to find a copy of a poem she wrote for the yearbook that year(1930). She is my son-in-law's grandmother.

Thank you.

Ann Grampp
Beware of decorations in your yard!
My mother enjoys working in her yard with her flowers, bushes, and decorating for the holidays. She was even awarded yard of the month this summer...only to have the sign stolen which was returned days later. Sometimes when she plants new flowers we find within a couple of days that they were pulled out. We thought it was just kids playing. Well last year she had her yard decorated for Christmas with some reindeer that lighted, well one of the deer's lights quit working and after looking at it we found that the light cord had been cut in several places. Needless to say we were very upset. But mom went ahead with decorating for the other holidays this year. Well within the last two weeks we put up a lighted American flag on the railing of her porch...well this weekend it came down because it was not lightening up anymore and YES after looking at it the electrical cord is cut in three different places. AGAIN we were very upset. If someone is doing this for a joke I ask you to PLEASE cool it, it is not a joke anymore. Now because of all of the happenings in mom's yard with her decorations she is ready to STOP decorating her yard for the holidays. Just because someone can not leave other peoples things alone.

Peggy Winters
Comments on grade school class of 46
Dave, I had to comment on two pictures recently added to MinonkTalk. First, Martha's picture of our 1946 third grade class was good to see again. A few names to add are- starting with the second row, right side- Jim Fortman, Joyce Grampp, Doug Dahler (son of the Baptist minister), and Dave Gutherz. The only person who I can think of who could be standing next to Dave Gutherz is me. But, the clothes don't look like mine and I believe I would have been taller compared to the other kids in the picture. I don't believe they started sending us to the principles office until we were in the seventh grade so I wasn't there. The only thing I can figure out is that someone had to be taking the picture!

Things I remember about the third grade are that I became related to the teacher during the year when she married into the Barth family. And NO I did NOT receive any special treatment after that. In fact, word of my exploits seemed to reach my mother more readily. A second remembrance is that Mrs. Barth brought a rope to school and tied one boy to his chair to teach him to remain in his seat and not get out of it unless asked. After several days, the treatment worked. An agreement was reached the student would remain in his seat and the teacher would not tie him up. I'm sure the humility of having to be untied to go to the bathroom had something to do with it. Even though not related we were all like family back then. The rope trick wouldn't work today because we are no longer like family.

The second picture is the wading pool. Even though the pool was located in the rich part of town and we lived in the opposite corner of town we did use it when accompanied by an adult. It was a wading pool and not deep for most kids but when just starting out in life it could be awesome. One time when I was in the water barely holding on to the concrete center someone decided to shove me to the bottom and sit on me. My grandfather Henry Barth was my guardian for the day and had to wade in to save me. I personally don't remember the incident but it was related to me many times in my early years. The pool was a bright spot for younger kids. When the City filled it each year word immediately seeped throughout the populist and by the time notice was put in the paper it was old news. Scooped by word of mouth. I'd comment on how peaceful and relaxing the Elm trees were but I'd cry because they are gone.

Barth Weistart